It's been a LONG time since my last blog - i actually think this is my first blog for 2010!! Calvin has been keeping me VERY busy!! Life is certainly never dull these days.
The beginning of May was a pretty huge turning point in our family's life. We packed up our little house in Cringila NSW and moved on up to Brisbane. We're in temporary accomodation right now, but on Wednesday we're moving into a rental in Tarragindi, and it's got a RED kitchen!!! I've always wanted to have a red kitchen - Jeremy wouldn't let me have red in our last house when we were rennovating, but at least i'll get to enjoy one for a little bit now! Check it out:
I haven't been able to do much scrapping leading up to our move, but since i've moved up here, i've actually been able to do 3 pages and 2 doubles!! I don't have any of my tools, so i've been making some pages using Basic Grey page kits: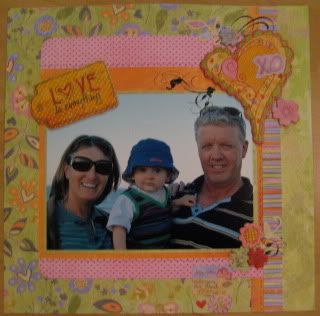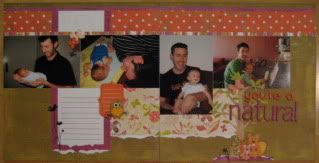 I've found a really great scrap store local to where we are living -
Photo Continental
- it's quite an amazing store - they have a photo processing lab, camera store, scrapbooking store and beading store all in one!! Unfortuately they only do a free crop on a Thursday night from 5:30-7:30pm (no late night Friday night crop), which is NOT ideal with trying to get Calvin to bed etc. Anyway, last week i went for about a hour and a half and made a start on a layout that i finished later. I've used the lovely range from Cosmo Cricket "Zoom":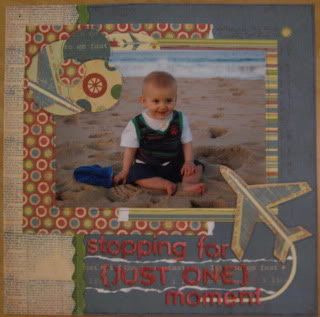 Today i stumbled across a shop which is a bit further away (over in the Capalabar region, near my aunt), which do a weekly 12 hour crop!! 4pm - 4am!! Can't wait to get into that!! The shop is called
One Stop Scrapping
, and it's about to move to a really huge location where they will also be running a weekly 'mums and bubs' crop, where it will be encouraged to bring bub along so they can all play together while the mum's scrap together. Sounds wonderful to me!!! Can't wait!!
Another part of moving has meant that we've had to leave our beloved church in Wollongong behind and start the old church shopping all over again. Fortunately we've come across a really great church after just 2 weeks!! It's quite similar to our old church, and the people seem to be very friendly. I was invited along to playgroup this morning, and that was quite enjoyable. I'd like to be able to get along to this every week i think!
In Term 1, i was going to the Library at Warrawong for a "Born To Read" program where kids under 2 came with their mums and we sat around for some nursery rhymes and stories, then play time at the end. Calvin and i really enjoyed this time, so we quickly sought out a similar program up here. Unfortuately we couldn't make it last week, but we're going to try and make it in tomorrow morning!
Also tomorrow, i've got a lovely friend coming up to stay with us! Can't wait for that!!
Well tonight, i'll just leave you with a few photos of my lovely little boy, and hopefully i'll be blogging more often!
May - On the beach in Wollongong, the last Sunday we were there
April - Easter Monday
March - First ride in a bike seat on Jeremy's birthday
Enjoy!!