Well i've had a cracker of a month in terms of entering scrapbooking challenges!!! It's great to have the chance to get out and do lots of scrapbooking outside of the house - it seems to be the only type i'm able to do these days!!!
Over at
Scrap The Boys
this month the challenge was to scrap using a piece of your boy's artwork. Here's my page: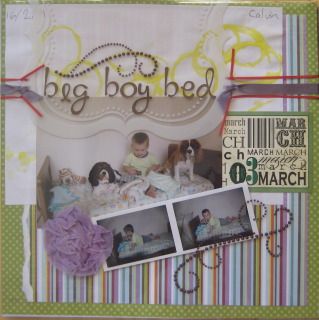 The beauty of having Charm on the team over at Scrapbooking From Scratch is that i can do her page and enter it twice - once at Peta's site and over on
Charm's Creations blog
- if i use one of her gorgeous embellies, and to be honest i struggle to NOT use one of her gorgeous embellies right now because they are so fab - you've probably noticed them poppin up a lot on my pages lately!!!
Well that's about it for the scrapbooking this month - i've just gotten some gorgeous fabrics and patterns in the last couple of days so i'm most definately sewing tonight!!! I'm going to make it a top priority to get my list of September challenges up by Friday next week, as i know lots of you do Friday night scrapping :D Have a fab weekend and a very happy father's day!!