Wow, i have never seen so many challenges in one place as i have over at
Scrapbooking From Scratch
this Easter long weekend!!! They are having an Easter Crop-a-Thon and there are 3 new challenges every day PLUS kids scrapbooking challenges too!!!
So, i thought i'd update you with all the challenges so far here in one space!! There will be more tomorrow and you have until Saturday 6th April to complete them to go in the running for a prize :D
Colour Challenge: Green, Pink & Red
Quote Challenge: "Life is good:
Sketch Challenge: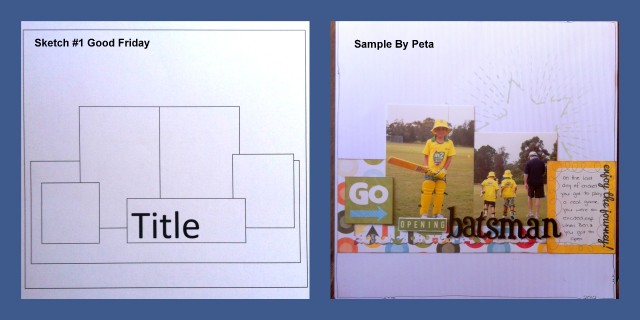 Colour Challenge: Black, White, Aqua/Turquoise AND one more colour of your choice
Quote Challenge: "The most important thing is to enjoy your life - to be happy - it's all that matters." Audrey Hepburn
Sketch Challenge with bonus criteria - use mist, paint or textured medium on your background for an extra entry into the draw:
Colour Challenge: Brown, red and blue - in any shades!!
Quote Challenge:
Today you have a choice as I cannot pick my favourite out of these A.A Milne Quotes
"How do you spell 'love'?" - Piglet
"You don't spell it...you feel it." - Pooh"
― A.A. Milne
"Sometimes,' said Pooh, 'the smallest things take up the most room in your heart."
― A.A. Milne
"Promise me you'll always remember: You're braver than you believe, and stronger than you seem, and smarter than you think."
― A.A. Milne
BONUS - complete a page for each quote and go in a draw to win an ALPHA pack [includes Thickers, OA Mini Market & Glitz Mini alphas] - pages due April 6th
Sketch Challenge: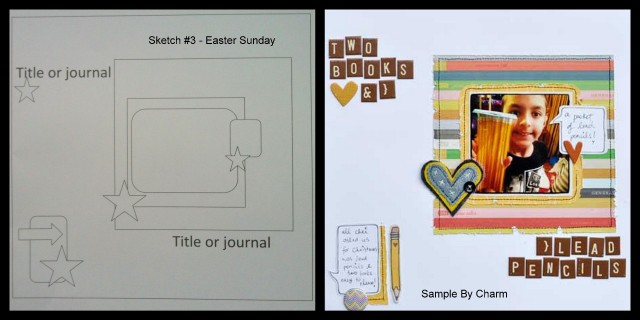 Plus, there are a couple of Bonus Challenges!!!
**Charms Creations is offering a free pack, just by recording which challenges you have done in the thread on the forum**
**Use a Charms Creations embellie and let Charm know on the forum for your chance to win a set of 3 chevron's**
**Quote: "Be yourself - everyone else is taken"**
Good luck everyone!! So much inspiration isn't it!!!!