It's been 2 months since we moved from our little home in Wollongong up to sunny Brisbane! Quite a lot has happened in that time. Calvin has been SO SICK!!! We've started going to lots of playgroups and mothers groups and play centers, and as a result he's picking up every bug known to man. Yesterday he threw up on me about 7 times. Not just little spews either, really massive projectile spews!!
Since we moved up, Calvin has started crawling too. He's been able to crawl backwards for 1-2 months now, but today is the first day that he's been able to move forwards! Very exciting for us all, though a little terrifying! He's only gone a few 'steps' crawling, but i'm sure within a week or so he'll be off!!
Still no teeth for Calvin too. I'm not too worried though - it's certainally easier to breastfeed a baby with no teeth!!
Sleeping has been a bit of an issue for us all since around easter, but it was compounded by us moving - he was starting to wake 5 times a night, so one night i snapped and rung a parents help line. They were very helpful and started me on a settling method called 'camping out', where we sit by the cot while he gets himself to sleep. At the beginning we were very hands on, then moved to just having a hand on him, then just sitting beside him. Now we're gradually moving the chair further away from his cot with the aim of getting out the door. It has been very tiring, but definately paying off. He's slept all through the night 2 nights this week!! Plus, his day sleeps have improved out of sight. Gone are the days when he would only have 3 half hour naps. He's now having 2 naps, and at least one is more than an hour. Today he's had 2 really long sleeps - 1.5 hours this morning, and 2 hours so far this afternoon (he's still asleep!!). I don't know what to do with myself - i might have to start scrapping again!!! I managed to get some quilting done this morning, so that was good!!
I've been trying to get involved with other mothers as much as possible. God blessed us with finding a great church really quickly, so we've been going along to that, though it's tricky to make friends there when you are only there once a week for a couple of hours - most of which is during the service!! Growth groups are starting up next term, so that will be good to help us get to know people better. I've joined the ABA so i can attend the local all age mothers group, going along to a playgroup (at the church), getting myself along to play centers and play grounds where i meet lots of mothers, and i've even started getting out to scrapbooking on my own!!
I've been back to Sydney once already, and i'm going back again in just over a week. It will be great to see my family and catch up with friends. It's so tricky when i'm only there for a little bit though!! Jeremy's mum is going to come down and stay with my parents while i'm there too, so it will be great to catch up with her too!!
I've done a little bit of scrapping recently, so i thought i'd share.
This is a layout i've done for Becky Fleck's PageMaps Blog (with the hope of winning some yummy chipboards!!):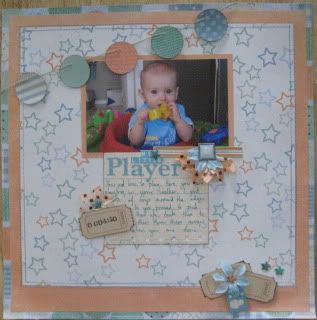 Here's another page for Calvin's first 12 month's calender - this is for April i think:
And here's a double LO that i was working on before we moved, but i only just finished on Friday night at a shop crop - i just needed a little something that i couldn't put my finger on. I think it's finished now: