Well it's been a LONG time since i last blogged. Sorry to all my followers!!! I've been very busy since we are expecting our second baby 1st September this year. Plus, i started a job in February!! I'm working as a materials engineer 2 days a week doing failure investigation!! Pretty exciting stuff in my opinion :D
Not a huge amount of scrapping has been going on - i've just been too tired to use my brain. I've been doing lots of knitting though, in front of the TV :D I've joined a club on
ravelry
(facebook for knitters) called the "Supper Six Special Pattern Sock Club" - we are all knitting 6 socks this year, 1 pair every second month, and all the same pattern!! It's been heaps of fun so far and i'm really enjoying it. I'm also learning heaps of new techniques, which is just great!! My first pair was made using some Moda sock wool and the pattern "Shurt'gal":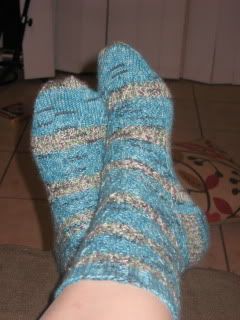 Pretty cute, huh?!!?! I'm rather a fan of them. This photo doesn't show the pattern very well but it's something like this:
My second pair is called "Nutkin" and i'm using some YUMMY Noro sock yarn!! I'm just loving the colours coming up so far and can't wait to see how they turn out in the end. The pattern is much easier than the first one so i'm enjoying it a little more and getting through them much quicker!! Speaking of Noro, when i bought my sock yarn i also picked up some Noro for a jumper i'm going to make for Calvin: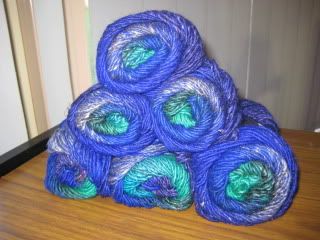 Aren't the colours GORGEOUS!?!?! The blue really is that light. Can't wait to see how it knits up :D But i'm going to be very good and finish my Nutkins before i start on the jumper.
I also finished off the knitted overalls i'd been working on for almost a year. I thought they wouldn't fit Calvin since it took my so long, but i think they are going to fit him nicely!! Because i used a yummy bamboo yarn it's stretched a little under the weight:
On the crochet front i've been quite busy too!! I've already knitted a pram blanket for the new bubba:
And i'm doing the whole angry birds lot!! I started making them for Jeremy's birthday and got the first 2 done, but i'm going to complete the set. I was finishing the pig at scrapping on Friday night and one lady there wants me to make one for her!! Might have to start selling them i think!!
On the scrap front, i'm mostly just working on one album this year. It's with Scrapbooks etc. in Underwood and it's a mixed media project. I'm doing 1 class every month for the year and i'm calling mine "our growing family". It's really nice to just concentrate on what is happening right now with my scrapping. Hopefully i won't loose too much of what's going on in doing this!! No photos yet unfortunately, but i'll work on that over the next couple of weeks. Other than that i've done a few pages here and there. My favourite one lately is this one:
Well, night all. Hopefully i'll be blogging more often now that life is slowing down a bit. I'm off to Sydney this week though, so who knows!?!?!?!?!!!