I normally take a travel journal with me when we travel (yes, one of those things made of paper that you use pens/pencils in), but i forgot this time!! I find it helpful to write in it each night before bed so i don't forget what happened - since such a lot seems to happen when we travel, especially since we've had Calvin. Otherwise the little details just get lost. I've probably forgotten lots of the lovely little details from this trip already, since we just got home this afternoon!!!
It's been a very long and difficult trip this one - starting from the plane trip down (Wednesday 30th March). The plane was 10 minutes late, which meant we missed our slot when we got to Sydney, so we had to then circle for about half an hour. Once we finally landed, we ended up sitting on the tarmack right in front of the gate since there was a 5km lightning radius, so the ground crew were'nt allowed out. They must have a bloody good union, because we didn't see so much as a drop of rain while we were sitting there!! A 1.5 hour plane trip with a wriggling toddler (and a pregnant mother with a sinus infection) is bad enough, let alone a 2.5 hour plane trip!! We've decided that when we come back in June we'll be buying Calvin a child's seat even though we don't need to - it's just too difficult to travel with him on our laps, and i'm not going to have much of a lap by then!!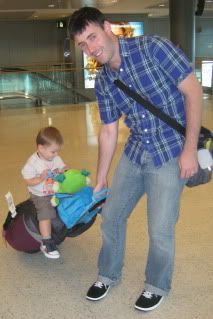 When we finally got off the plane to find my dad (grandad) eagerly waiting for us. Mum (grandma) and my sister (aunty Sarah) greeted us in a similar fashion upon our arrival home. It's kinda funny how things change when you have kids. Calvin is now first to be greeted whenever we arrive anywhere. It's lovely, and i don't resent it at all, but it's kinda funny how they all greet Calvin and then suddenly say something like "Oh, and nice to see you guys too!!"
Both mum and dad took Thursday off work and my pa and his wife (Margaret) came over to see us. It was nice to catch up with them over a very yummy pea and ham soup that mum made. She really does make awesome pea and ham soup!!! We also had a caramel mud cake to celebrate Jeremy's birthday which was the previous Sunday. Calvin was VERY excited by this, and ate a whole piece up quite quickly!!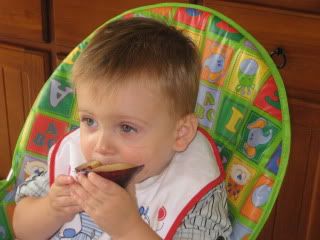 Friday was a day for just the 3 of us. Mum and dad went to work so we went up to Hurstville for a spot of shopping in the morning. Nothing very exciting there, though Calvin very much enjoyed 'riding' on the thomas the tank engine merry-go-round (he hasn't worked out that it goes around yet - and as long as he doesn't know, it's saving me a fortune!!!), plus a piggy back on dad's shoulders!!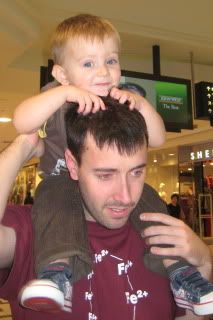 Friday afternoon i caught up with a few old school friends - Pamela, who is married with a little girl just 6 weeks younger than Calvin; Nadine, who is married; and Ally, who is engaged. All at different life stages, but it was really great to see that we are still who we use to be, but just a little different due to whatever life stage we are at! We had great conversation, coffee and some lovely biscuits - which Calvin and Isabelle really enjoyed too!!
Saturday was the day of the wedding - of which our trip 'revolved' around. Nick and Susan. Nick is a great friend of ours - he started the cadetship with us way back in 2002, though he didn't finish with BlueScope Steel as we did. He's been through so much heartache in the last few years that it was so wonderful to see him so incredibly happy. Nick had initially asked me to do the photography for the wedding, of which i was happy to do, but also very nervous that i wouldn't get all the shots they wanted. I was overjoyed to hear that they had hired a professional, but they also wanted me to do some photography too. It was a great experience to kinda 'tag along' with the photographer, and i think i got some really great shots, but i'm very glad that i wasn't the primary photographer!!! I was, however, at the reception, though by then they were fairly over the photo thing and didn't seem to mind if i didn't take too many photos!! Overall it was a really great wedding, and we felt both blessed and honoured to be a part of it!!
Jeremy's parents made the rather large trek down to my parents place on Sunday for lunch. Being from the Hunter Valley, this involved around 6 hours travel for them. We were initially going to meet half way, but decided that travelling the day after a very involving wedding was probably not the best idea - and lucky we didn't because i spent a lot of the day in bed!!! I was quite ill while we were away so being able to sleep during the day was quite a blessing. Unfortunately Jeremy has returned with the sickness i departed with!!! It was great to catch up with them, and for them to have an opportunity to see Calvin - it was the first time they have seen him since Christmas!
The boys played golf on Monday - Dad, Jeremy and Matt. They all had a great time, and fabulous weather for it!! Mum and i did a bit of shopping, and coffee-ing with Calvin, and just generally hung about the house in the afternoon. It was quite a nice relaxing day really. Jeremy and i went out that night to see "Rango" which was quite entertaining, and have a lovely Tepanyaki dinner.
By Tuesday Calvin was going a little stir crazy at mum and dad's so we found a local play center. He had a lovely time there, especially since they did a weekly craft spot which happened to coincide with our visit!! He particularly enjoyed the slide and a little bus that he could hop in by himself and 'steer' (though it didn't actually go anywhere). Unlike lollipops up here, we had to follow him around a bit since there were so many 'black spots' where you couldn't see what they were up to!! A little disappointing as mum and i were kinda looking forward to a nice coffee out together. The coffee was lovely, but we had to drink them separate!!!
Tuesday night i was able to catch up with one of my very best friends, Jess. She drove up from Wollongong to have dinner with me, which was just great!! Jeremy and I were also able to catch up with some good friends, Anne and Matt, who are due to marry in June - our next Sydney trip!!! It was a very long overdue catch up, as we've been trying to have dinner with them since we left last year!! We went to a local restaurant, and had the most exquisite chilli mud crab!! Definately a winner :D
In the interest of keeping the peach, i have removed this section of my blog. For those who read this previously, i stand by what i wrote and it is still a very difficult issue. We have no idea what we're going to do when we go to Sydney in June. Any suggestions would be very welcome!
Anyway, we came home today, and its *fantastic* to be home. As nice as it is to get away, we are really enjoying the quiet of our home and the assurance of having Calvin in his own bed (and if he cries or gets up early, it only affects us!!!) Our trip home today was just as difficult as our trip last week. We got to the airport and found that our flight had been cancelled, leaving us with a grumpy toddler to entertain at a very boring airport for 1.5 hours. He wasn't too bad though. Once we found another little boy that he could play cars with, he was pretty much set. He entertained himself with the hungry jacks crown for a little while too. So cute.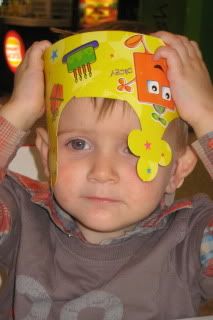 The flight was much faster than the previous and though Calvin wriggled as much as we thought he would, he actually fell asleep about 5 minutes before we landed. I managed to manoeuvre him into a position such that he stayed asleep while we found our bags and got our transfer back to our car. He woke when i put him in the car, but then quickly fell asleep once we got going again. Such a trooper. It's moments like those that i really cherish, and that make motherhood all worth while!!