It's been over 2 weeks since i last scrapped, so today i decided to spend the day scrapping, while Calvin is in daycare. I actually ended up doing a double LO this morning - one side for the July
Purple Pumpkin blog
challenge and the other side for the '
once upon a sketch
' July 15 blog challenge. Here's what i came up with: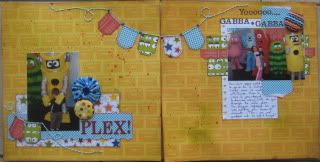 And the right side was for the once upon a sketch blog challenge. It turned out to be a long way from the sketch, but i had to make it work with my first LO!! The challenge was to use a quote, so i used "Yoooooooo..... Gabba Gabba" as my quote - it's the last thing in the opening credits of the show, which i thought was appropriate :D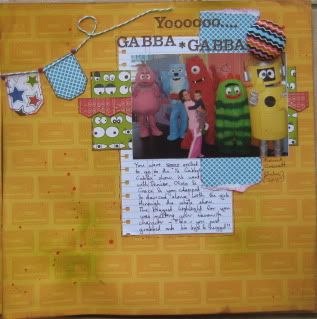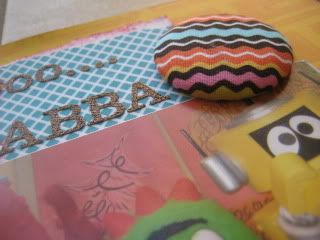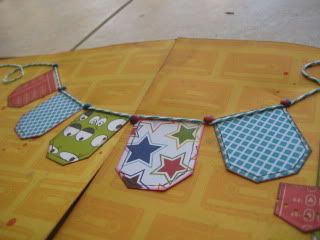 I've used a huge mix of products on these two pages. A bit of old Cosmo Cricket (from "The Boyfriend" range), some American crafts, Jillibean Soup (Monsters Stew), Scenic Route. Purple pumpkin embelishments and some random brads plus lots of misting with some glimmer mists and some of Mr Huey's (LOVE how bold that red mist turns up!!!). Alphas are Heidi Swapp and Making Memories, plus i've used a Stampin' Up! write marker.
On the knitting front, i've been doing lots for Calvin lately!! I finished the jumper i was knitting for him and it looks gorgeous - he loves it too - the sign of a well loved jumper is that he took one of the buttons off within a couple of hours of putting it on LOL
I just LOVE the buttons i got to match the jumper - SUPER cute, don't you think!!! Very glad that this project is done really - it wasn't the most enjoyable yarn to work with, especially given how much winding i had to do to get all the colours matching around the body and sleeves!!
I've dubbed them the "One team fits all" supporter sock, since they are such lovely bright colours!! My personal challenge for this pair of socks is to learn how to knit socks with contrasting toe, heel and cuff. I think they look good, though i think the heel would look much better if it was a toe-up pattern. Shall try this one next time i think!!