Purple Pumpkin
is after 2 guest designers this month, and to be in the running to be a guest designer, they are asking us to post our favourite LO on our blog. This was quite a challenge for me, as i'm so happy with so many of my LO's this year.
In the end i settled with this LO: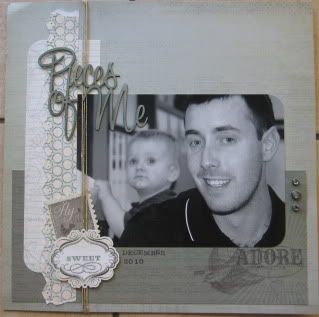 There are a few reasons why this one is a personal favourite. Firstly, the photo is just gorgeous!!! My two men - My husband in the foreground has and always will be my first love, and my son in the background whom i'm totally head over heels for too - he's a shadow of his daddy. They truely are pieces of me - it's like having part of my heart walking around outside of my body, having them in my life :D
Secondly, i just LOVE this paper range. It's MME's Lost & Found which i just LOVE. So there's lots that i love on this page!!! I love the monochromatic and the twine and the subtle bling, and it's got one of my favourite Martha Stewart punches on it and.... i could go on, but i won't.
Hope you enjoyed a little look into my favourite LO at the moment! Don't forget to check out
Purple Pumpkin's blog
this month - there's HEAPS going on :D