OK, how many of you scrappers out there just LOVE MME? I'm sure i'm not the first to admit to drooling over all the lovely sparkly papers and gorgeous embellies they put out!!! I also love following the
MME blog
, and they have a couple of monthly challenges, so i thought i'd give one a go this month!!!
Their first challenge of the month is to use brads in an unusual way (plus, of course, you have to use their product!!!) I had a BOTHER of a time trying to find my MME brad stash, which i only just used a couple of weeks ago when i was at a crop!!! Doh!!
ANYWAY, i ended up just using some generic silver brads to hold down some yummy Green Tara crystal branches, plus for the middle of some butterfly's which i'd popped up, and as just an embellishment cluster.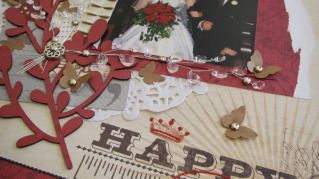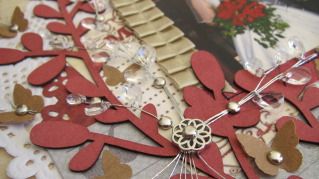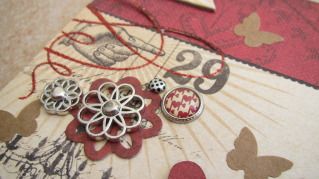 This page is going in my 'Krafty Koncepts' album, which is a class i'm doing over at
Somewhere To Scrap
. I'm using this class to scrap my wedding album (finally!!!), and here is what it looks like as a double spread in my album:
I'm really loving how this album is coming together, thanks to Mel who is a fantastic teacher!!