What a MAMMOTH weekend i just had!! I went along to the
Scrapbooks etc
. 'create-a-weekend'. How great is it having so many scrapbook shops around!!! There's pretty much something on every weekend :) The 'create-a-weekend' was kinda like a retreat, but it was based at the shop. We scrapped 6pm-midnight on Friday night, then 10am-midnight Saturday!! I was exhausted by the end of it!!
And then on Sunday, we went along to my second cousin's birthday party. It's so nice to have family around so close that we can join in celebrations of each others lives. I am also teaching Olivia and her sister Grace to play the piano. It's nice to be able to give back to family like that!! Here are some photos from Olivia's birthday party:
All the kids enjoying a 'floor picnic'
Calvin enjoying his first lollypop - there was green drool EVERYWHERE!!!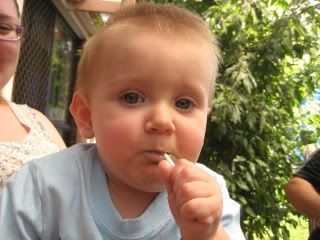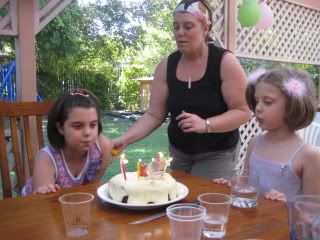 Olivia blowing out the candles on her cake. This wasn't her 'real' cake - she had a butterfly cake the day before with her friends. This was a yummy home made carrot cake - Denise did a GREAT job with it! Such a sweet girl to pick a carrot cake so that her mummy could eat it - Denise can't each chocolate (poor thing!!)
Grace looked just adorable with her little fluffy pig tales!!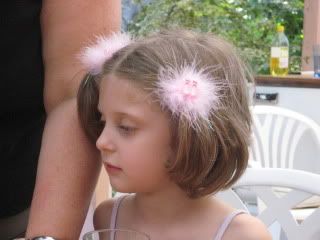 I managed to create 5 single LOs, 2 double LOs, 1 mini-album and 10 Christmas cards on the weekend!! Here's a few of my favourites:
This one was the last page of the weekend, create when i was VERY tired, but i really love it!! I've just used a couple of Fancy Pants transparencies, along with a Fancy Pants journal block and some yummy hand stitching. A lovely bright, simple page. I think i'll submit this one for publishing because it's got such nice clean lines :)
Another page i'm going to submit for publishing is this one. I've used some yummy new Bo Bunny papers - it's actually their Christmas range!! I was a bit obsessed with flowers this weekend too - keeping Prima in business!!! This is a page about how different my sister and I are. I purposefully didn't do any journaling because i wanted to keep my thoughts to myself :)
Although these photos aren't very good (they were taken on my iphone), i just HAD to scrap them. These were photos from Friday morning - Jeremy had been away for 4 days, and Calvin just missed him so much. As i said, terrible photos, but the message is so clear.
There were lots of mini challenges throughout the weekend. This page was created from a 'pantry' challenge - we were given 15 minutes to purchase 3 different PP from 3 different ranges, along with 3 embellishments. Then only an hour to finish the LO. It's amazing what you can get done in such a short time when the pressure is on!! This is Leah and I in a lolly shop in Mallaney last weekend: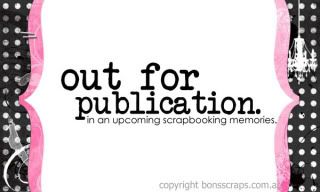 I did a double LO about this weekend too. It's using some of the yummy October Afternoon Thrift Shop range. I told you i was crazy about flowers this weekend. I think almost every layout had them on them!!
Last share for this post - this LO was for a
PageMaps
competition, but i never managed to submit it in time. Shame, because i'm really happy with this one! I've used a Kraft background and some MME PP's. Forget what the range is, but it's last years with dinosaurs all over it.