Last weekend was the October CC at
Scrap Boutique
- the theme, a very spooky "Dreamy Nightmare" thanks to it being Halloween weekend. I entered 2 pages:
This was based on a PageMaps sketch, with the added criteria of using black and white and 1 other colour. After a very long 'flick' through my photos, i found some photos of Sarah and Matt at their engagement part which had a black and white theme with a bit of pink thrown in, so that was easy from there!!
Check out how cute all the embellies are. I love Prima!!
The ticket stub and a few of the papers are an old Terresa Collins range that i've had hanging around for ages. So glad to rediscover them and have them get some use!!!
The other challenge i entered was Em's Sunday Roast - a blind crop style challenge where we were given the instructions, but didn't really like what we were doing - just following the instructions blindly!! I'm quite happy with this page - it's very different to what i usually do!!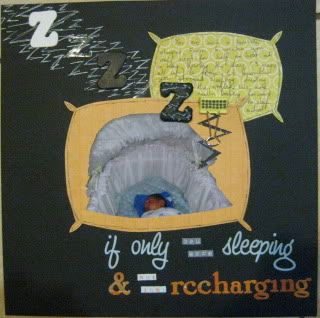 Something really cool about this page is that i actually made an embelishment myself! The 'Z' was made using some clay that you form then bake! How awesome is that?!?!?! I got a heap from Riot the other day because i had been inspired by an article in a magazine, or maybe it was someone else's blog... Anyway, i have some sparkly ones too that i'm sure are going to come in handy!!
Last night i went out to Scrapbooks etc. at Underwood for a night with the girls. It wasn't an overly productive night, but i did do a LO based on a sketch that was provided that i quite like:
I love this range from Kaiser. It's called "Peachy Keen". The embellies are SO cute, especially the pearl images. I even did a bit of machine stitching which i haven't done in ages - it's something i LOVE to do on my LO's, but it's usually too much of a bother to get the machine out, plus i would often wake Calvin if i do since i tend to scrap while he's asleep!! So, it was good to have a machine set up last night, just begging to be used.
Other than that LO, i did a couple of LO's for the calendar i'm making for my husband, plus a bit of painting for Christmas gifts. More to come on them...