I so love
PageMaps
by Becky Fleck and i'm a particular fan of the
blog
. They run heaps of contests there. Lots of them are only open to US citizens (or with a US postal address), but i enter them anyway because i figure i'll probably never win anyway. If, by some slim chance, i ever do i could get the prize sent to my dad's US work address anyway!!
Anyway, this week there is a contest to win her second book, which i'll probably end up buying anyway! I have the first book and it's fab when you are stuck for ideas - especially when the mojo seems to have gone by the wayside. The pagemap looks like this:
and here is what i came up with: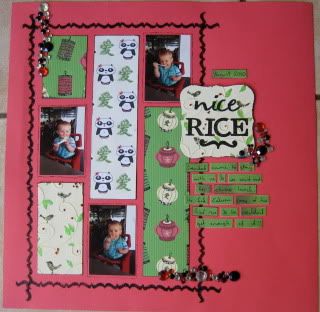 This is a page about Calvin's first experience with fried rice - which he LOVES!! I've used some old Prima i had. I think the range was "Peaches" or something like that. The bit with the birds is actually some cuttlebugged coordinations whitewash that i've sanded and then kindi glitzed. It looks so cute!! I'm really happy with the outcome.
The bling is something i picked up at some random scrap shop. Had it for ages, so again, good to use up some old stuff!!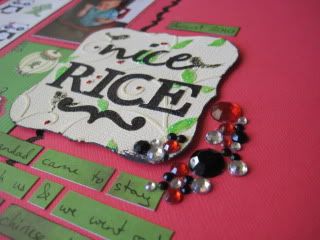 How often do you use 'old' stuff you have in your stash? I find it really difficult, but i really need to do more of it because it just seems to accumulate so quickly!! Either that or stop buying new stuff, but that's not going to happen...
There is another comp at PageMaps finishing next week. The PageMap is:
I'm going to give it a go - hope you can join me in the challenge!!