The first
Scrap the Boys
challenge for November is "Super Who?". I've done a LO in 15"x6.5" for Jeremy's calendar. I haven't shared any of this yet because it's not finished (even though i've been working on it for ~12 months!!). I'll share the whole thing when it's finished :)
Anyway, this LO is about how Jeremy is a super here because he's such a super dad. I've used some Fancy Pants for this one as it really suited it to a tee!!
The paper already had "Super Dad" on it, so i just jazzed it up with some silver pen (i ran out half way through though!!! I have to get myself a new one to finish it off i think!! The star was in the paper too, so i cut around the points with a craft knife before popping them up with some foam dots, curling them over and adding a bit more silver. I think it looks tops!!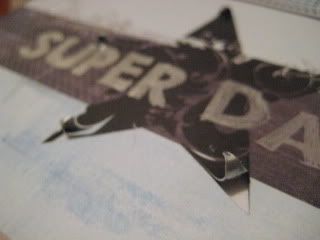 My other creative little bit for this page is the stamp on the photo. It's just a matching sticker in the same paper range, but once i stuck it down i decided that a stamp that fab just had to have a postmark!! What a fantastic way to add the date and location to a photo. I think i'm going to have to use that technique again :) I used stays on ink so that it wouldn't smudge on the photo - always works a charm when you are stamping directly onto photos!!