Most of my posts have at least SOME scrapping in it, but this one doesn't!! As some of you are aware, i have other creative outlets outside of scrapping. I recently finished a gorgeous little cardigan for some dear friends of ours in Wollongong. They had a little baby girl at the end of October and i only jsut put this in the post (such a slack friend i am!!):
I used a new technique in this pattern that i haven't used before - knitting single row stripes. This involved using either double pointed needles or circulars. Naturally, i was already using circulars so this wasn't too much of a problem for me once i figured out what i had to do. It made for a very interesting and enjoyable knit. I used a variegated for the contrast colour, and it gave a fabulous effect, wouldn't you agree?
Another share i have for today is a project that i've been working on for most of this year. It's a pair of bamboo overalls for Calvin. Well, at least it was for Calvin. The plan was to finish it for winter/spring this year, but that is long gone (especially in QLD!!!). I'll still finish them, but they will have to be for bub #2. I finished the legs quite quickly, but once i moved onto the body i slowed right down. It just became so BORING!!! It's just the same thing around and around and around again.... Not my style at all. I'm using it as an opportunity to learn continental knitting thanks to YouTube!!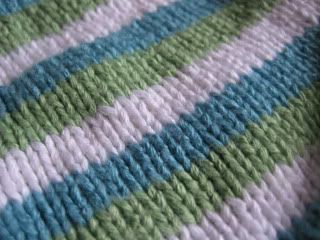 My last little share for today is a gift card i won recently:
A few posts back, i did a post about what i would buy if i had $20 to spend at Kmart. They only had about 8 entries, so they just sent everyone a $20 gift card!!! How lucky was i? I actually ended up using the $20 to get a soda stream refill and some new flavours :) DH is very happy about that as he just loves the thing!!!
Well, it's getting to the hairy end of the day with Calvin. We've had a lovely day today - we went down to the Gold Coast to go to some markets, then spent a bit of time at Pacific Fair before heading back. Now we all enjoying the peacefulness of our backyard - the dogs are mulling around, Calvin is playing in his ballpit and on his see-saw and Jeremy and I have just finished a cappuccino. It's such a mild day here that it's really pleasant outside. Time to head inside to feed the hungry little man though, before a bath and some stories then bedtime. And tonight i'm going to SCRAP!!!
Scrapboutique
has a CC on this weekend, so tonight is roast night!! Can't wait!! Why don't you head on over and join me?