Another
PageMaps
contest (you all know how i love them!!!), but this one is a little bit different - there are 2 packs to win this time!! One is going to a cardmaker and one is going to a scrapbooker. Since i do both (though neither especially well LOL) i thought i'd enter both. Here's what i came up with.
The sketch for the LO is:
I used some Fancy Pants papers and other bits and pieces to make this: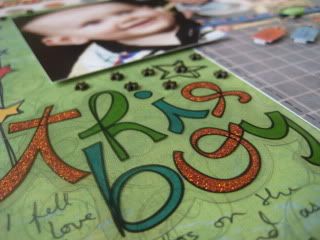 I love this new punch i got on the
ScrapBoutique
retreat - it's a lovely Martha Stewart punch and SO GOOD for boy layouts and cards!! Not to mention, Christmas :)
For the card contest, the sketch i was working with was this:
Pretty nice isn't it?!?!?!! Taking some inspiration from this and using a lovely chipboard piece, some old Kaiser, some old Carolee's Creations stickers, some paints and my cuttlebug i actually came up with 2 cards. Christmas theme of course since i've been busy making cards recently!!
There's still time to enter these contests if you want to - just visit the
PageMaps Blog
. You have until 12th December (US), so it could be a great source of inspiration this weekend!