Evening all!! This weekend is the monthly CyberCrop at
ScrapBoutique
, and it's a doosy because it's going from tonight through to Tuesday!! If you want to join in, don't stress - all you've missed so far is the speed scrap tonight. Here's what i came up with thanks to Chelsea's great sketch:
Cute huh? I found Calvin faaaaaaast asleep like this one night when i went in for our nightly "check the chicken" before we go to bed. I pulled the sheet up over him and couldn't resist going to fetch the camera for a shot of this - risked waking him!!! The papers are new Bo Bunny and are SUPER cute for boy pages, don't you think? I thought they suited the photos well :D
I finished my socks tonight too!! These are the second for the year - part of my 'super special 6 pattern sock club' on
ravelry
. Loving how the Noro knitted up!!!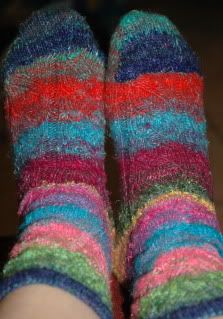 Finishing these is not only exciting because i finished well ahead of month end, but also because i get to start on a cute little purple newborn dress :D My first knit for this bubba. Got about 10 rows done tonight. I'll get a bit more done tomorrow in the car as we are heading up to Redcliff to stay with Leah for easter and my birthday!! Nadine and Brian are up there already, so we'll be joining them for a lovely friends catch-up weekend.
Off to bed now - a big day of packing and driving ahead of us :D