Firstly, i'd like to wish all the mum's who read my blog a happy mothers day!!! Especially to my mum who is the best mum in the world, and an even better grandmother!!!
I've had a really awesome mothers day, which was really more of a whole weekend!!! I told the boys that what i wanted for mothers day was for them to go out for a couple of hours (giving me some time at home :D), and pick some plants for our new sensory garden. Then to come home and plant them together!!! It was a great gift and our garden is looking really awesome. Here's just a few of the lovely plants that they picked for me:
I don't think i've shared much about our sensory garden. The idea is to encourage Calvin to enjoy the garden - by having an area for him, but to also teach him about all the different senses:
- Sight - lots of different coloured flowers
- Touch - plants that feel different, especially the leaves - furry leaves, smooth leaves, thorns etc.
- Taste - herbs and vegies that he can eat straight from the garden
- Smell - Different smelling herbs and flowers
Great idea isn't it? We got the original inspiration from Better Homes & Gardens, but we've changed it up quite a bit!! They had a stream running through theirs, but we decided that this wasn't safe, given Calvin's age, plus one of the great things about our garden is that we don't have to worry about him out there, and if we had water that wouldn't be so!!!
Here's Calvin pottering around in the garden:
This is super cute - Calvin decided to pick some of the flowers on the plants we just planted and arrange them in a different garden bed. It was a very bitter-sweet moment for us as we didn't really want him picking them, but that's kinda the whole point of the garden!!! And he was being so creative too!!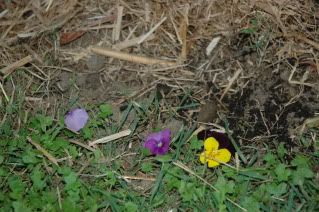 So the boys did that for me yesterday and this morning i got a lovely hand painted card from Calvin that he had done at daycare - he was particularly proud of the glitter on it!! I also got a little laminated thing with a picture of him and a poem about mums. Pretty special stuff :D
We went to Maccas for breakfast on our way down to Movie World. It was a great chance for Jeremy and I to have a few minutes together while Calvin had a play in the playground!!
We arrived at Movie World in record time and were there pretty much when the gates opened at 10am - check out how empty it was:
We did the typical thing getting some photos with characters. The first set of characters we saw was all superheros, and Calvin was a bit scared, but he got a kick 'bumping' the flash with his fist. He really liked Tweety Bird and Scooby Do (not surprising, considering he's just a giant dog)
The first (and last) ride we went on was the merry-go-round. He went on it with me first, and then dad later in the day. He really loved all the lights and going up and down. It was super cute how he would get off the rides and tell us all about it afterwards. He didn't seem so fussed on it while he was on it, but you could clearly see the joy afterwards!!
Waiting....waiting...watching the train ride - his favourite by far!!!
Riding the Tweety Bird ride with daddy
Watching the loony tunes rollercoaster, which he had a HUGE fascination with!!
Hanging with dad, watching shows. We were very surprised by how much he enjoyed watching the shows!!! The first show we went to was the stunt car show and he was just fascinated by that!!! He loves cars heaps so i suppose we shouldn't have been so surprised. He really loved the motorbike in the show too!!! The other show we went to see was a Looney Tunes musical which he LOVED!!! He loves music and the characters just captured him completely!! Towards the end of the show we were sitting directly in front of a bubble machine so that was really super exciting for him.
Last thing before we left, Jeremy went on the Superman ride which is one of his favourite rides at the moment - it's the only ride either of us went on that wasn't a kids ride too!!! I couldn't go on any because i'm pregnant, and Jeremy wasn't devastated to not go on many because he went just a few weeks ago while Nadine and Brian were staying with us. It's been so great having the yearly passes for that reason - we can just go to a theme park for a few hours, and it's not a 'waste', which is great when you have a little kid, since they don't survive very long!!! We actually managed 4 hours, which is pretty good considering Calvin's age. It would be great to take him to sea world before our passes run out at the end of June because they have just got a new penguin exhibit that wasn't there when we went last year, and i think he'll really like that!!
A knitting share before i go tonight. I started my third pair of socks for the year yesterday, and i'm amazed how quickly they are knitting up. It's my first ever pair of toe up socks and i'm very pleased with how that is working out for me - i think i'm a convert already!!! It took me a few pattern repeats to figure it out exactly, but now it's looking beautiful!!! And it's such a quick knit that i'm ready to turn the heel on the second day of knitting!!!