Well, it's been a pretty bit weekend for me in terms of scrapping. I went to
Fancy That
on Friday night. I got 1 LO and 2 cards done and made a start on my sister's wedding invitations. The LO was for their monthly challenge kit so i haven't got a photo yet, but i really enjoyed using the bright pink and lime green papers provided in the kit, and i added a lovely chipboard ladybug that i inked and spritzed - looked very cute!!!
A few scrappy friends from up here were going to a new store at Roachedale yesterday so i decided to join them and check the new store out!! Once a month they do a massive saturday crop - 9:30am to midnight. i only stayed 1pm to 10:30pm, but i actually got heaps done!!! 3 LO's and lots more of my sister's wedding invites - i'm well over half way with these now. I'll probably finish them this Friday night.
The new store is called "
Somewhere to Scrap
" and it's a really lovely store!! They have a fantastic range of both new and old stuff plus a cafe and an area for kids - which is fenced!!! I'll definately be going back there again - i've booked in for the next super saturday at the end of June, so i hope i can make it!!
The 3 LO's i did last night were all for challenges. My local store, Fancy That, has just started a monthly
blog
challenge so i'm quite keen to support that. Here's what i came up with: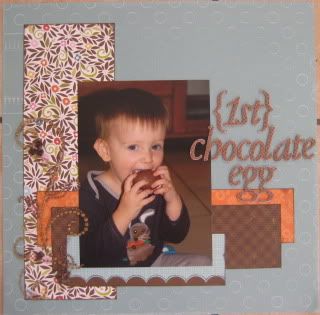 My other 2 LO's were for
Scrap Boutique
. The first was for the monthly challenge, which was to do a LO with a 'mum' theme and quote. I used some yummy new MME 'Lime Twist' papers for this one - it was nice to use some girly papers!!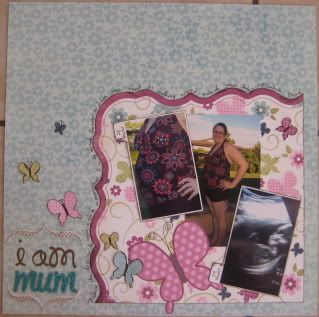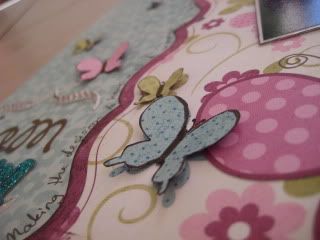 I enjoyed cutting out some of the butterfly's from the offcuts and popping them up! I also used some Pink Paisley artisan shapes that i've had for a bit. I used some ink of them and then smudged it for a nice effect.
The second challenge was the stylist challenge, which was to use autumn colours. I took a little creative liberty to this idea and used some brights! How cool are these papers? They are a Jillibean Soup range which is super nerdy - lots of chemical formulas etc. Thought they suited a photo of Jeremy and I perfectly!!!