I had a lovely day yesterday at one of my local scrap shops - Somewhere to Scrap over in Roachdale :D It was their monthly 'Mega Crop' - 10am until midnight and i was there for the whole thing!!! I haven't done that for well over a year - since i was pregnant with Scarlet!!
In scrapping a page i was racking my brain for ages trying to remember a saying about Dandelions and where i knew it from - and i finally figured out that it was a song from Five Iron Frenzy - check out these awesome lyrics:
"In a field of yellow flowers,
bluest eyes that spark with lightning,
boy with shoes undone.
He is young, so full of hope,
reveling in tiny dreams,
filling up, his arms with flowers,
right for giving any queen.
Running to her beaming bright,
while cradling his prize.
A flickering of yellow light,
within his mother's eyes.
She holds them to her heart,
keeping them where they'll be safe,
clasped within her very marrow,
dandelions in a vase.
She sees love, where anyone else would see weeds.
Here is everything he needs.
Fathomless your endless mercy,
Where do I fit in this puzzle,
what good are these gifts?
Not a martyr, or a saint,
scarcely can I struggle through.
All that I have ever wanted,
was to give my best to you.
create in me something clean.
Dandelions
you see flowers in these weeds.
Gently lifting hands to heaven,
softened by the sweetest hush,
a Father sings over his children,
loving them so very much.
More than words could warrant,
deeper than the darkest blue,
more than sacrifice could merit,
Lord, I give my heart to yo"
Isn't that a gorgeous song? Well i used it as inspiration for the title work in this LO: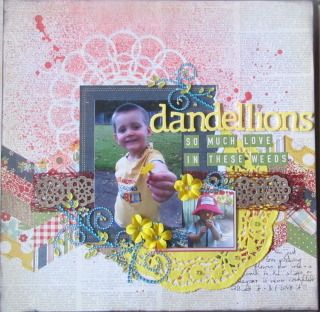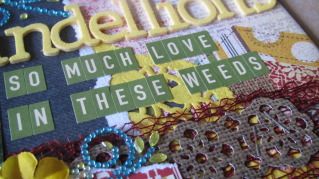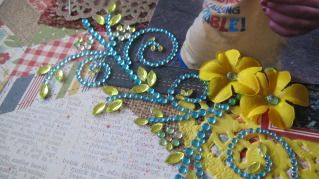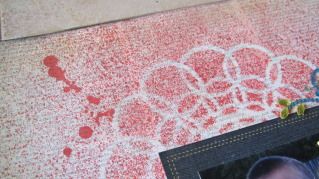 Believe it or not, this LO was inspired by a PageMaps sketch - but by the time i turned it and changed square elements to round, well it looks quite different!!! But i like it anyway. I've used a lovely Simple Stories base page and matching PP and some Prima bling that i've had for a little bit and knew i would use, but i was just waiting for the perfect LO to come along!!!
I'll be sharing the rest of what i created yesterday over the course of this week :D