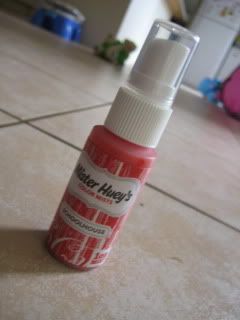 Another lovely night scrapbooking at my LSS,
Fancy That
- and i was loving the "Mister Huey's Color Mist"!! I chucked it in my bag as an afterthought and ended up using it on both pages i did!!! The gorgeous red i have in it is quite striking, especially when i flicked it onto a shiny surfaced base cardstock (which took all night, plus overnight to set!!!):
The other page i enjoyed some spritzing on was the monthly sketch for
Scrapbooking From Scratch
. The sketch was designed by Malinda, and i think it's just gorgeous!!! I logged on today to upload my entry, only to find that i was meant to use journaling, paint and 3 circular objects too - oops!!! Never mind. I'll just have to have another go at this one again this month because it was such a fun sketch to use!!!
The page is about how much Calvin is obsessed with his hair - he wants me to gel it every day for him, and he just adores washing his own hair at night - then bragging to me afterwards (dad does the baths). Plus all through the day he's always telling me about his hair. What a little dude!!