Well i don't know how busy you have been lately, but i've been flat out!!! Calvin is such a handful now, but he is also more fun than ever - i am really enjoying this stage. Even though he's naughty, as he tests boundaries and his own sense of individualism, he is chattering away like mad and i can almost have a full conversation with him!! He's such a lovely little boy - i feel so blessed to have him in my life. What an amazing gift from God he is :D
My sister is getting married next year, and i have just recently finished her invitations - they certainally took some time as they were a lot more fiddly than i had anticipated. Here's a little look at the end result: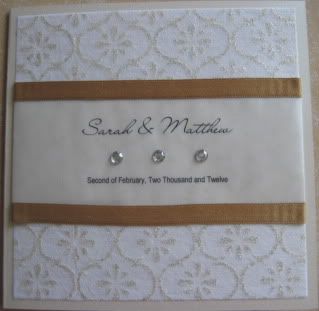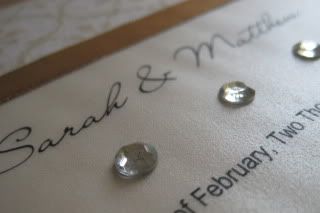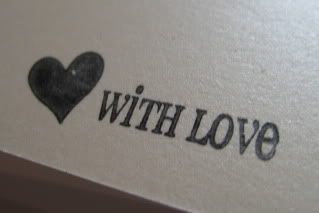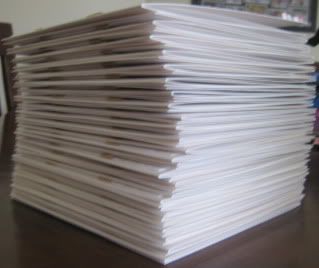 Boy that was a big task!! Very glad that they have finally been sent out now, and i'm pleased that Sarah is happy with them too!
Another thing i've been busy with is birthday gifts! My brother and sister - in - law recently celebrated their 21st birthday (twins), so i decided that a home made gift was the way to go. Emily lives in Melbourne, so knee high socks were definately appropriate!!
I thought that Martin probably wouldn't appreciate socks, but i wanted to make him a little something. After much consultation with Jeremy we ended up deciding on a Yoshi Amigurami, and i think he worked out pretty well!!
A couple of other birthdays meant more socks (i'm so into them this year!!!), so my mother-in-law got some lovely aqua socks (Ravelry pattern: Shurtigal) and my bestie in Wollongong ended up with some pink/green socks (Ravelry pattern: Leyburn).
Luckily all of these socks fitted the recipients perfectly!! It's always a bit of a gamble making socks for others!! Another pair of socks i'm working on at the moment is a pair for Calvin. I'm using some lovely yarn from Tangled Yarns called "Ella Rae Lace Merino" in a lovely blue/aqua handpainted colourway. They are looking wonderful so far, and the yarn is just a dream to work with!!! I'm trying to finish these before the end of June to enter into Tangled Yarn's monthly knit-a-long - the theme this month is socks!!! I think i should be able to finish them off in time - i'm on the foot of the second sock (toe down), so not much longer to finish off there!
Another busy weekend for me this weekend. Tomorrow Calvin is in care, so i'm going to make the most of it and get along to the baby and pregnancy expo without him!!! Plan is to duck in and out really quickly - working at my own pace. It would have been really nice to go with a friend, but given that i've not been very well lately, i really need to go on my own and leave if it's all too much for me. Tomorrow night is my regular scrap night at my local store, but i'll just stay for a couple of hours because i'm going to a store at Roachedale all day and night Saturday to scrap - looking forward to that!!!
Sunday we are going to Sea World as a family - it's the last weekend we can use our annual passes, so we thought we'd make the most of it!! Can't wait to show Calvin the penguins they have at the moment, and really hoping that the weather is nice - last time we went it was pretty aweful weather and we didn't stay long because it was just so miserable!!! It will be nice for him to go on a few rides - especially the merry-go-round!! He certainaly loved that at Movie World!!
Well i hope you have a wonderful weekend with your loved ones, whatever you have planned. And that you get to add a bit of craftiness in there too!!