My Vintage Blossoms
has just started a new sales blog and had their first sale last week. I got my purchase in the mail very quickly and have been chaffing at the bit to use them! I did 2 LO's with them today, so i thought i'd share my creations!
Both of these pages are for the
Scrapbooking from Scratch
sketch-a-day comp (yesterday's and today's sketches). I'll share today's first because i particularly love this page (plus it's got 2 blossoms on it :D ) I've used a gorgeous new range from Pink Paisley - i just love the colours in this range - purple, pink and aqua are my favourite colours, so when i saw them in combination in this range i just had to have it all!!
Aren't those purple and black blossoms lovely? I've totally fallen in love with them and i can't wait to get some more next sale!!!
I used the last blossom in my pack of three on the next page. It's quite a busy page this one and i was partly inspired by the sketch-a-day sketch, but that made me think of a LO i'd seen in creating keepsakes most recent magazine with a similar background to this - they had cut out scalloped squares and punched apples. I used my nestibilities to cut all the artisan squares and a SU! punch for the hearts - it's actually a punch of 3 hearts, but i just used one of them. This made it a bit easier with positioning because i had to punch in pretty much the same spot every time (or i would loose more of my paper!!!) This page cleaned out my October AFternoon 5 & Dime papers - i'm just amazed how much use i've gotten out of this kit - it's been really fab!!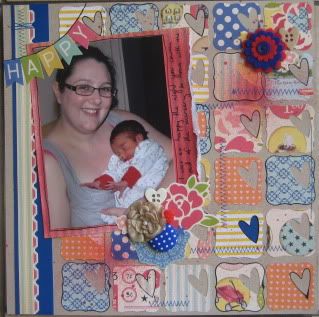 I think this caramel blossom really adds something to the page - an element of softness and femininity in an otherwise masculine page. Love it!!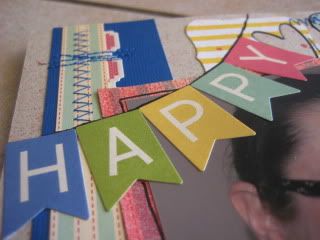 If you want to order blossoms or other 'my vintage blossoms' embellishments, but you don't want to wait for the exclusive blog sale, you can check out the range Krissy has available at
Wicked Princess
.